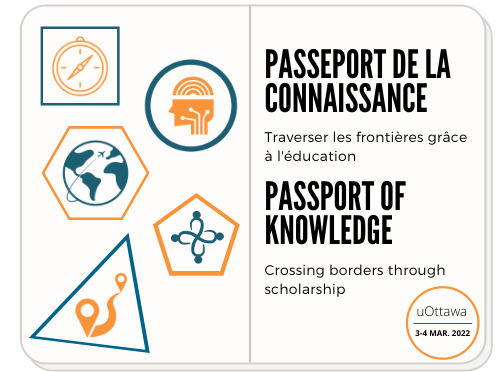 Jean-Paul Dionne Symposium 2022
Passport of Knowledge: Crossing borders through scholarship
---
The Jean-Paul Dionne Symposium 2021 Organizing Committee is pleased to invite proposals for papers, workshops, Ignite sessions, paper posters, and Twitter posters for this year's conference, March 3 and 4, 2022.
The theme of this year's Symposium, Passport of knowledge: Crossing borders through scholarship, considers the fact that we have faced much solitude this year, but have also been able to connect in an effort to stay healthy and well. This year's theme is all about being united in education as it is important to gain new insights, share new knowledge and experiences, and move forward as educators. Through various forms of communication, we can all come together to learn from each other and to develop and grow as academics.
The theme is also a subtle nod to the politics and controversy surrounding the topic of passports. Education is inherently political and we as scholars must recognize the social consequences of our work.
You may have noticed icons on the passport of knowledge. These are intential and act as the streams for this year's symposium.
Encompassing all voices
LGBTQ2+ issues
Indigenous education
BIPOC experiences
International student experiences
Equity, diversity and inclusion practices
Etc.
Going global: United in education
Research that unites leaders in education
Practices that unite students
Conducting research during Covid-19
Covid-19 related research
Being a teacher during the pandemic
Mental health
Balancing work and life
Etc.
Cross border projects
Collaborative efforts
Interdisdisplinary initiatives
Second or Foreign Language Teaching
Multilingualism
Language and power
Etc.